Organisers of the Salter Centenary Project have launched a new website to highlight a year-long series of events throughout 2022 celebrating Quaker Socialists and ILPers Ada and Alfred Salter.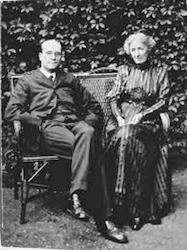 The project marks the 100th anniversary of the Salters' dramatic electoral breakthroughs. Ada became Mayor of Bermondsey – the first woman mayor in London – and Alfred MP, both in November 1922. This inaugurated the series of radical municipal reforms known as the 'Bermondsey Revolution'.
As Quaker Socialists (though they called themselves Socialist Quakers in those days) and as members of the Independent Labour Party (ILP), they dedicated their lives to the poor of Bermondsey. They transformed the grim environment of the appalling slums, demolished them where they could, planted trees and flowers everywhere, filled open spaces with playgrounds, and built innovative council houses still beautiful today. Alfred Salter as a doctor brought free medicine to Bermondsey some decades before the National Health Service, and Ada, on the London County Council, helped introduce housing and environmental improvements (including the Green Belt) across London as a whole.
This project has attracted the support of Dame Judi Dench, a Quaker environmentalist herself, and she has agreed to be its patron. The project's mission, according to the website, is "to revive the Salter inspiration". Alfred was a doctor ahead of his time. Ada Salter was a 'green before the Greens', says the website: "She knew that contact with nature is vital for mental health. She brought trees, flowers and green space to the inner-city."
The website aims to be a hub of information about all the Salter centenary events taking place in 2022 including a series of planting initiatives called 'Beautifying Bermondsey'; a number of specially themed guided walks; a set of online primary school lessons about the Salters; and a new booklet reflecting on the lives and work of Ada and Alfred, to be published by the ILP.
Other events, some in co-operation with Raunds in Northamptonshire (Ada's home town), include a tree walk, a bike ride, a birthday concert and cricket match, as well as plays, films and a drama festival.